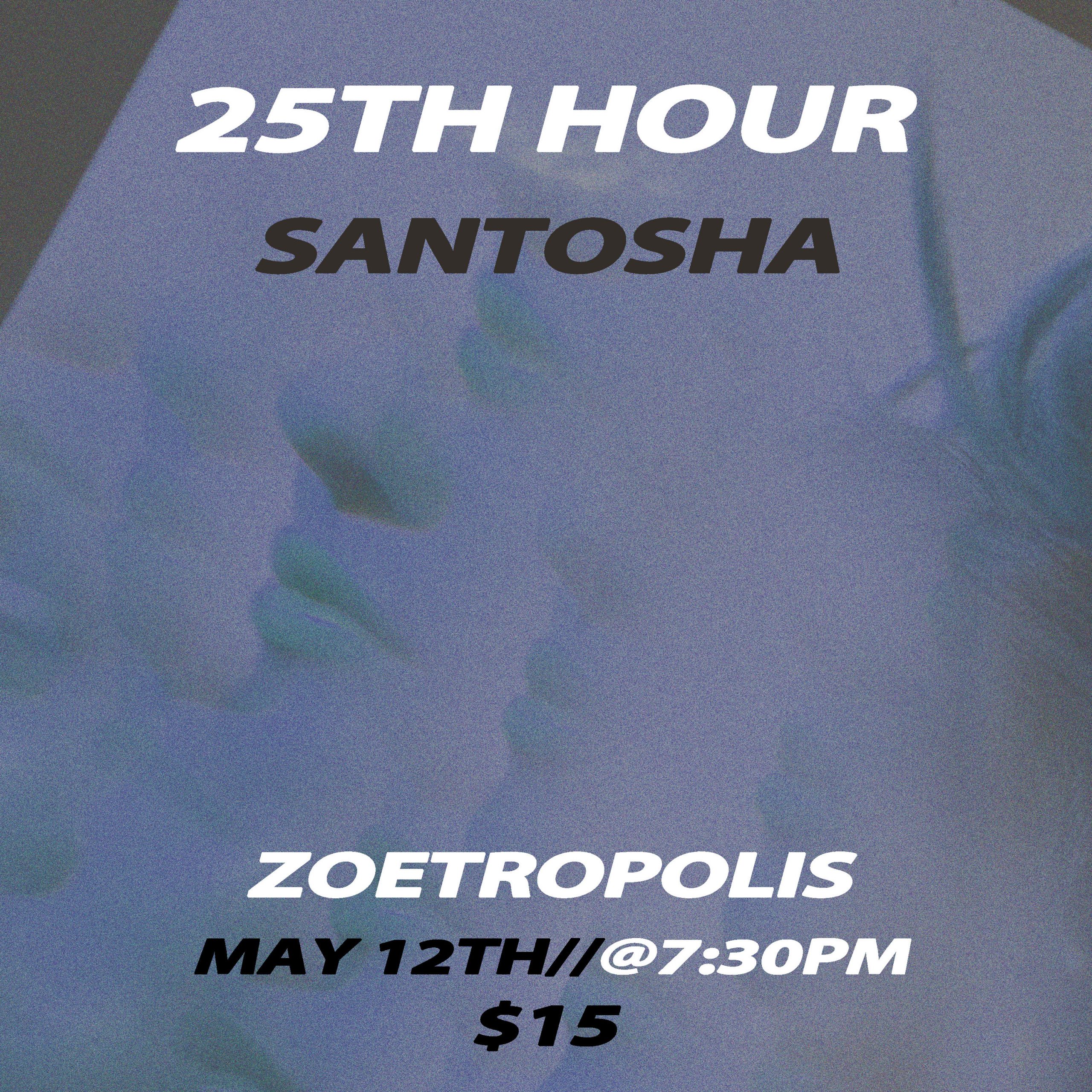 Santosha / 25th Hour
Run Time: 160 min.
~ Friday May 12, 2023 ~ Doors @ 7:30 / Showtime @ 8:00 ~ $15 ~
---
Santosha
Hailing from the greater Lancaster area, Santosha is a rock band that blends a multitude of sounds and inspirations to create music that speaks on multiple different levels and to a variety of experiences. From driving rhythms and sailing melodies to blankets of calm and pensive tonality, Santosha expounds from its roots in purely rock and roll and springboards into its many subgenres. Santosha was founded by long-time friends Greg Gervasi (vocals, guitar) and Tyler Ruenroeng (guitar) in 2019 and they sooned joined forces with Greg's brother Matt Gervasi (bass, vocals). After writing a plethora of songs between 2020 and 2021, they then joined forces with drummer Mike Rhodes in 2022. They are currently poised to release their debut full-length this year after teaming up with Ben Roth and John Smith at The Kaleidoscope in Lancaster, PA with the single "Ghost of You" coming out this spring; a song which showcases in full their melodic sensibilities blending patterned guitars and forthright rhythms layered with rolling vocals which leaves you with the full impression of their unique and identifiable sound. 
---
25th Hour
One jam sesh after another, '25th Hour' slowly became the six piece alt rock group that it is today. Expect powerful vocals, rippin guitar solos, and a tight rhythm section that will have you head bangin and maybe shedding a tear or two. The group has experience performing a variety of genres, from funk and folk to classical and pop, but generally, you will hear their music lean on rock influences such as The Story So Far, Emery, Audio Slave, Paramore, etc… And Miley Cyrus lol. 
You may have seen 25th Hour along the east coast playing festivals, houseshows, bar gigs, and stacked bills for some of the best local venues. Some highlights for the group were opening Young the Giant, performing at Rock Lititz Beer Fest, Harrisburg Arts Fest, and playing with awesome groups like Sunflower Bean, A Giant Dog, Barrie, and You, Me and Everyone We Know. The group attributes much of their success to the support of their community, and is always trying to create opportunities for people to come out and connect with one another through music.